First impressions come into play during onboarding an employee and are equally crucial in the course of their graceful exits. Thus, as human resource managers, prepare in advance for an offboarding plan. This comprehensive, sensitive process is about an employee's collective experience interacting with your organization.
However, this transition can be unpleasant at times if not all. To steer clear, a well-structured offboarding process needs to be in place for both the employees and the organization. Here is a complete breakdown of how to effectively offboard an employee.
What is offboarding?
Offboarding is the formal dissociation process of an employee from an organization. It covers all the systems which help to successfully part ways. Be it resignation, retirement, or termination, a compassionate exit essentially speaks of the organization and its values.
Where, on the one hand, the onboarding activities efficiently introduce a new hire to organizational operations, and ethics, offboarding manages experiences in an employee lifecycle. Both these practices are critical to creating a memorable last impression.
The former is concerned with providing a fresh recruit with all the essentialities to perform his duties; the latter is about his smooth transition for an uncomplicated, pleasant walk out. In the end, both are about managing your organization's reputation and optimizing employee's working experience.
All in all, it can be said that offboarding starts with a plan of action. One that is thorough and compassionate enough to help your exiting candidates, remaining employees, and your company to a better tomorrow. Additionally, a well-structured offboarding model is necessary to keep in line with the formalities which avoid legal or security threats.
Significance of effective offboarding process
The significance of offboarding is clear from the fact that it is one of the three approaches- onboarding, performance management, and offboarding- which help develop a sound employer-employee relationship. This explains how offboarding is also a crucial part of the provision of optimal employee experience. Along with the other two elements, it gives organizations a chance to create and cast a consistent impression.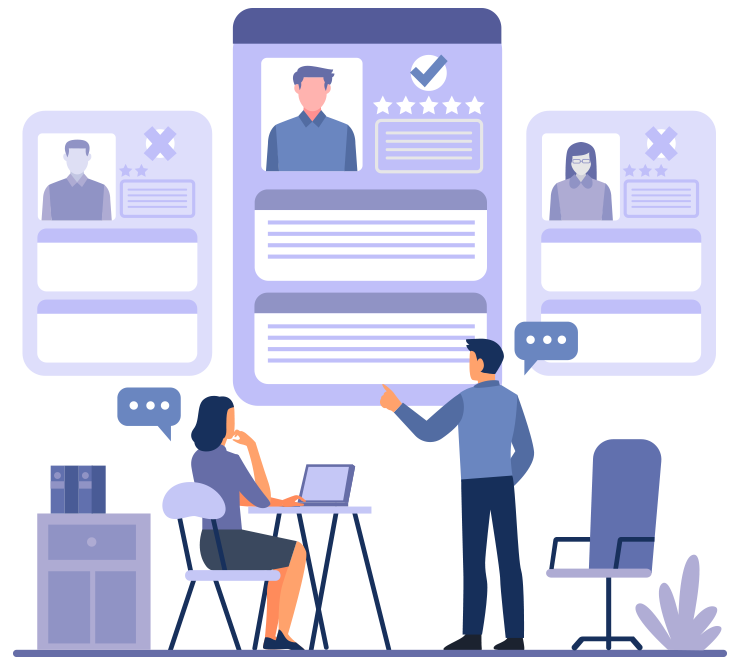 As per this, it is understandable that a departing employee will either become a good brand ambassador for your company or a bad one. To diminish the possibility of earning a bad reputation in the market (and for many other reasons), you must offboard an employee with respect, dignity, and the right perception. This explains the importance of having an all-round offboarding process.
To quantify its influence, research by Aberdeen shows that only 29% of organizations have an offboarding program. Additionally, this research depicted the rewards of formal offboarding on two key business metrics- employee retention and engagement.
Therefore, once a candidate decides to leave, the extensiveness of his offboarding defines his extended relationship with the organization:
Advocates or brand ambassadors: all former employees are patrons of your organization. As they explore other opportunities, they will share the experiences they had with your firm. Nothing beats free publicity from a candidate who had a good run with you and left with a favourable last impression.
Customer/business and employee referral source: a happy, satisfied employee is not only an advocate for your organization but also a rich referral source. He will redirect potential employees and customers based on his satisfactory tenure.
Circle back or boomerang effect: a parting employee may wish to reconsider after some time and return to work with your organization again, with his new skills and ameliorated knowledge. You may not want to miss out on this opportunity as someone familiar with your company norms, models, and operation is comparatively better.
All these highlight the implications of good offboarding. They point out the joint responsibility of the human resource professionals and managers to provide for such a magnetic exit experience.
What is the difference between onboarding and offboarding?
Before knowing the differences between the two, it is primarily critical to understand the common ground they work for. Both the onboarding and the offboarding process work to furnish an employee with the best experience by providing all the necessary tools. The former does this by bestowing means and information to integrate an employee. Whereas the latter does via a chain of exercises and formal undertakings to impressively transition an employee. Both contribute to wholesome talent management. To execute both the processes speedily, HR plays a key role. They coordinate and take care of each aspect.
In light of their similarities, both these indispensable undertakings have different roles to play. While onboarding extensively introduces a new hire to company operations, norms, and policies, the offboarding model ensures his smooth transition as he leaves. The prior practice uploads knowledge whilst the terminal drill downloads it in the form of experience and expertise.
Offboarding Process: a structural analysis
As simple as it may seem, offboarding must be the right blend of formalities and familiarity. Formalities like an NDA, retrieving company assets, a formal resignation letter, compensation, etc., to avoid legal pitfalls and intimacy to gather valuable feedback, expertise, opinions, and knowledge handoff. Since the two majorly define an employee's lifecycle, their nitty-gritty ought to streamline.
An employee can either retire, be laid off/fired, or resign on his own. Either way, the offboarding timeline is nearly the same and continues in a similar structure. It calls for an elementary level structural overhaul like the one mentioned below:
As an HR, you must divide the entire offboarding process into three parts:
Before an employee leaves
The formal day of employee offboarding
After employee leaves
It should be the basic framework of an offboarding process, and each part has the following operations:
Before an employee leaves
Receive/Issue a formal notice
In the case of a layoff, issue a formal notice depending on your contract. In the event of offboarding resignation, ask for a letter of leave.
Complete the Paperwork
The moment you issue or receive a notice, start preparing the paperwork which includes:
Letter of termination or letter of resignation
Non-disclosure agreement
Severance package agreement
After employment benefits (usually in case of retirement)
Letter of recommendation
Work documentation
Ask the employee to document all his job responsibilities, duties, clients, projects, and keep track of transferable knowledge. It doesn't have to be in the form of a lengthy written document. But go for a personal knowledge transfer experience instead. Here, a departing employee can share experiences and knowledge with the new recruit.
Prompt Communication of the Offboarding
Communicating the offboarding process to the rest of the team is the best practice. HRs need to send out an email to notify the colleagues of the departure.
The formal day of employee offboarding
The day of offboarding should be less stressful and also include a celebration to show gratitude. Besides this, it is the responsibility of the HR team to collect all physical and non-physical assets. It encompasses reclaiming all hardware, software, credentials, and revoking access.
Another significant task for the day of offboarding is conducting an exit interview. It is the responsibility of HR to ask valuable questions that give insight into ground-level company operations and ask for suggestions. It is a golden opportunity to gain honest feedback and shouldn't be executed merely as a formality.
If an employee is retiring or resigning, use this day to show gratitude. Throw a small lunch party, give a parting gift, and send off an employee with warm wishes.
After employee leaves
When the employee finally leaves the office, delete them from the current system of employees and clean up their work stations too. Before headhunting for new talent, create a psychological and physical room for a new joining.
6 Best Offboarding Practices
Apart from the step-by-step offboarding processes, there are some essential practices to invest in and make it a huge success: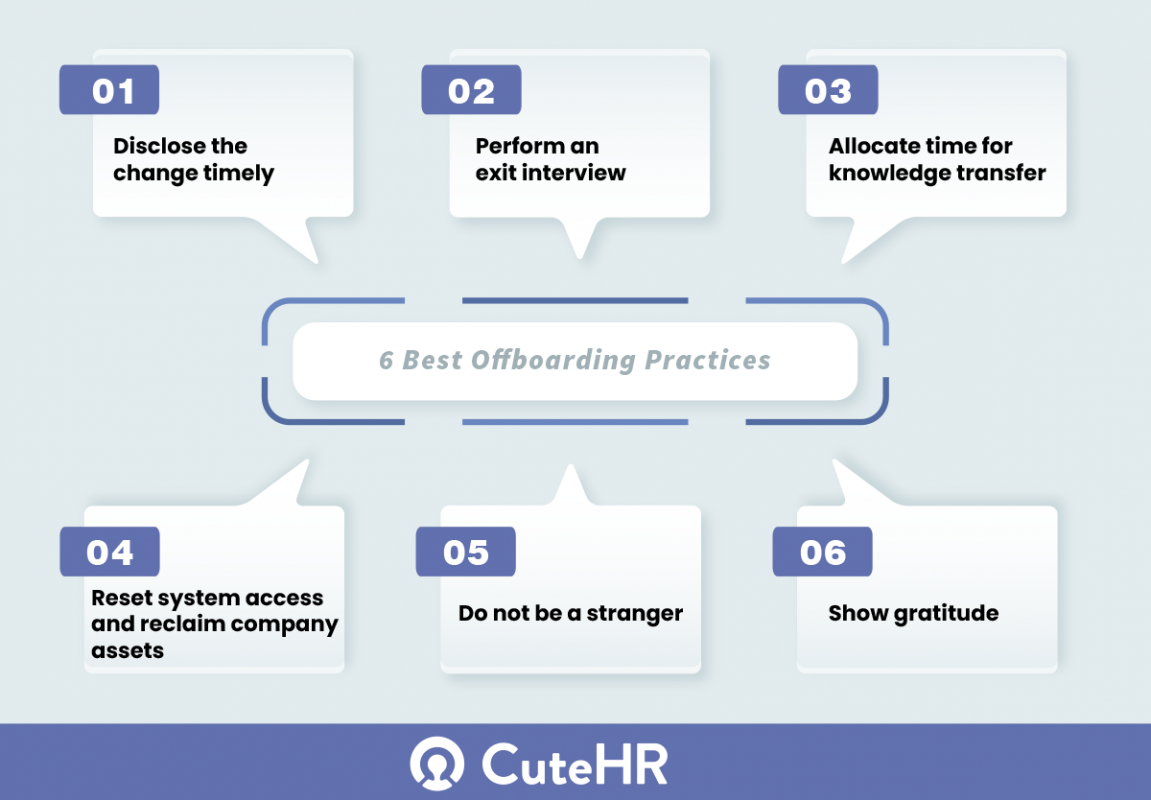 Disclose the change timely
To positively manage the change that comes with departure, prompt communication is a good idea. Therefore, a fair offboarding practice is to announce the news of parting. This formal announcement muzzles gossip gives no room to fragmented information, manages projects, and team needs in a better way.
An excellent way to do this is by deciding a date, time, and method of disclosure. As an HR, base this decision in compliance with the employee and the circumstances of his exit.
Perform an exit interview
As a Human Resource professional, an exit interview is pre-eminent. Employ it as a tool to collect information about the entire work experience, know all the highs and lows, and gather valuable feedback. It will allow your company to fill all the gaps within their organizational structure and escalate employee satisfaction. All the questions to ask during an exit interview should revolve to gain an insight on the following fronts:
Know the reason(s) why an employee is leaving
His/her dynamics with the manager. It is essential to know if there reside issues with leadership.
Professional growth in their tenure.
Feedback on company policies, culture, and work ethic. Also, ask for suggested improvement measures.
Allocate time for knowledge transfer
Knowledge transfer is central to offboarding. It is the process where someone leaving the office is to transfer his knowledge to a colleague. It ensures smoothness in business operations, uninterrupted progress, and no speed bump in productivity. It is the responsibility of HR to make sure that when someone leaves the office, he/she must complete his set of tasks and train others to do them diligently. Ergo, fix a time slot for the same.
Reset system access and reclaim company assets
After an employee leaves, it is important to revoke access, close accounts, or change passwords. This step leaves no room for security breaches and is necessary from a cybersecurity point of view. Moreover, it provides for uninterrupted communication and less confusion. The IT team ought to:
Disable all access to company emails.
Remove them from the internal systems/database.
Automatically redirect their emails or phone calls to a supervisor/new employee for sometime before shutting it down permanently.
Remove them from upcoming meeting calendars.
Apart from this, as a Human Resource officer, it is your responsibility to retrieve all the company assets like gadgets, IDs, batches, access cards, etc.
All these security measures are for the safekeeping of company secrets and sensitive information.
Do not be a stranger
You cannot stop people from leaving, but you surely can maintain a cordial relationship with them. When you part ways on a good note and keep in touch, it is advantageous for the company. An ex-employee can be a good referral source and foster networking opportunities too.
Show gratitude
Any employee that now chooses to leave would have given his share of expertise and provided some value during his tenure. It is needed that you extended gratitude on behalf of the entire organization. Throw a farewell party, say goodbye with a gift, send sincere wishes on a card, write a thank-you note, and show your appreciation.
Where does the offboarding software fit?
From that discussion and breakdown of employee offboarding activities, it is clear that offboarding is a very elaborate, time-consuming process with essential tasks in each phase. It involves communication, legal responsibilities, and impacts entire teams. To simplify, streamline, and effectively implement it, technological intervention in the form of offboarding software is a must.
This software facilitates workflow management and superbly assists in workflow management. It is truly a boon for more extensive team management and helps automate the offboarding process.
All the repetitive manual tasks are automated, and you can focus more on value-addition. Hence, cloud-based software and apps are a massive success with Human Resources.
Employee offboarding checklist: key components
A well-compiled plan lends a helping hand to execute employee offboarding in a more planned and systematic way. Just like an onboarding checklist, an equivalent written offboarding plan should also be in place.
Here is a sample offboarding checklist comprising the best practices and steps.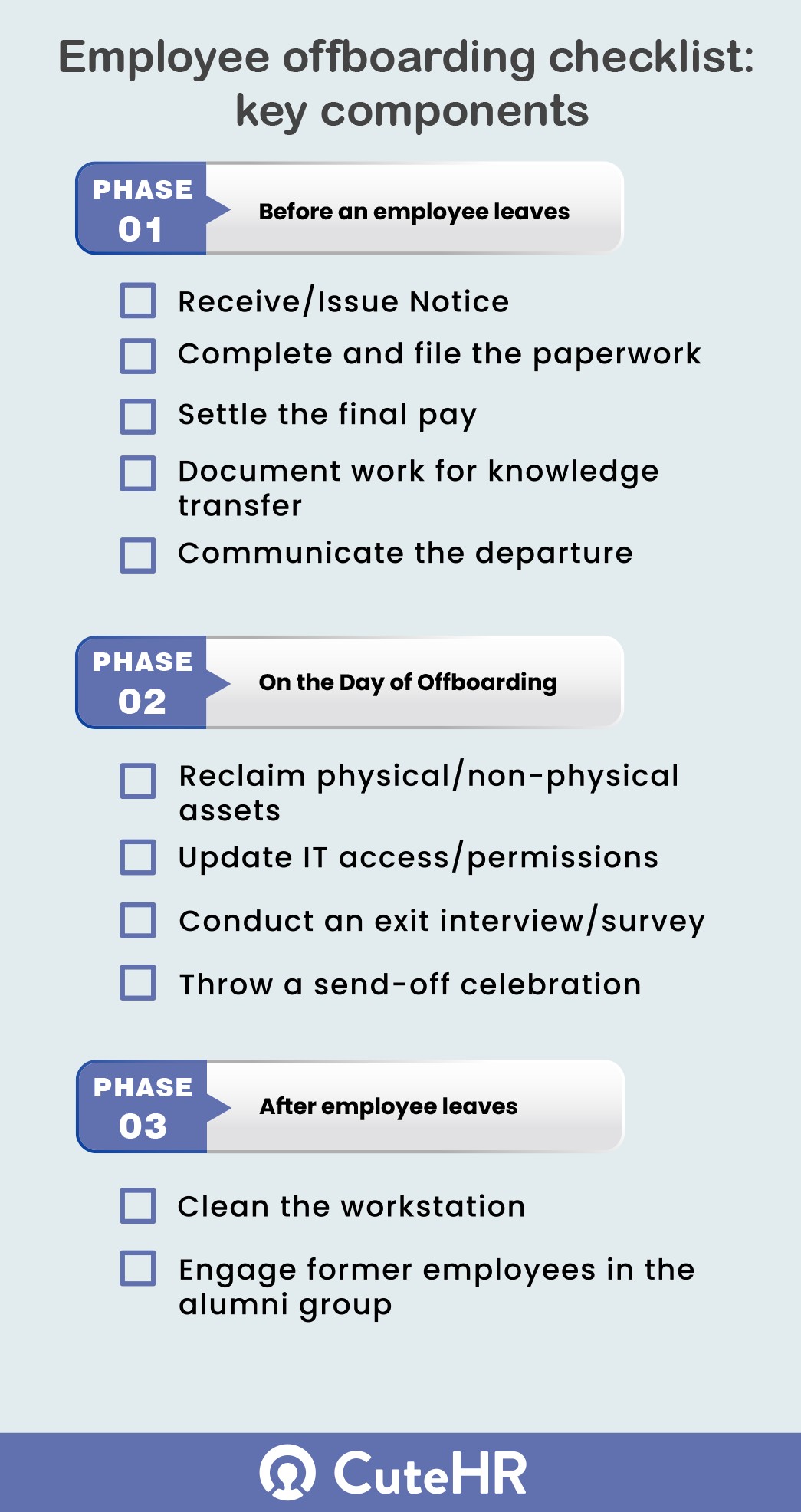 Phase 1 – Before an employee leaves
Receive/Issue Notice
Complete and file the paperwork
Settle the final pay
Document work for knowledge transfer
Communicate the departure
Phase 2 – On the Day of Offboarding
Reclaim physical/non-physical assets
Update IT access/permissions
Conduct an exit interview/survey
Throw a send-off celebration
Phase 3 – After employee leaves
Clean the workstation
Engage former employees in the alumni group
---
This downloadable offboarding checklist will remind you of all the roles you have to play and the responsibilities to discharge. While this checklist guides you along the road to take the right steps, go through this list of common mistakes to avoid during offboarding.
Commonly made mistakes with Offboarding Employees
As representatives of the company, HR executives ought to take special care while handling sensitive matters like onboarding and offboarding. While onboarding is more optimistic, the offboarding process can bring about mixed feelings, and it gets easier to make a few errors. Look out for the following:

Treating an exiting employee with negativity and contempt.
Overwhelming a departing employee with extra work during his/her notice period.
Looking for faults and giving a negative performance review.
Feeling personally attacked due to a person's decision to leave.
Not conducting an exit interview or holding one and rushing through it. This face-to-face discussion is the final chance to gather honest opinions and views. Inability to utilize it properly is just an opportunity lost.
Failure to know the reason why an employee is leaving and not making an offer/amends for them to stay. As an HR, it is paramount to understand the reasons why someone is leaving your company and try to convince them to stay by making changes in the notice period. Consider giving them a raise or make modifications in the environment but do try to change their mind.
A haphazard offboarding system that is not well-rounded. If offboarding becomes too chaotic, it can cause the employee unnecessary trouble, and you will find yourself calling them even after they have left. A thorough offboarding closely monitors the necessary tasks.
Too many gaps in information and communication like incomplete paperwork, pending paycheck, and other formalities. All this leads to last-minute frustration and a tarnished company reputation.
Alienating and neglecting former employees and not staying in touch.
Conclusion
The two processes of onboarding and offboarding are decisive in creating first and last impressions. While it is the onboarding process that receives excessive importance, the HR executives ought to give a suitable & impressionable exit to employees. We all know how just a few low glassdoor reviews impact future employability. Besides, the most significant factor drawing the line between companies that people want to work for and the ones that people don't wish to work for is perception. Attracting quality employees & skilled individuals is a delicate endeavour. Any lacklustre in something seemingly benign as offboarding severely impacts company/brand perception among prospective & existing employees.