What was once considered a 'perk' is now becoming the new norm. Yes, you guessed it right; we're talking about remote working – a concept that is fundamentally changing how organizations work and thrive. Today, global brands are rolling out mandatory "work-from-home" policies. Naturally, it makes sense to understand how to work remotely in an organic and effective manner.
Let's see. There are seasoned WFH (Work-From-Home) workers; there are absolute beginners, and then there are the ones who're still finding their footing on the remote working spectrum.
Whatever your stance is on the WFH policy, you'll have to agree that staying productive is key. Luckily for us, productivity has emerged as one of the most beneficial side-effects of remote working. In fact, a recent report by FlexJobs says: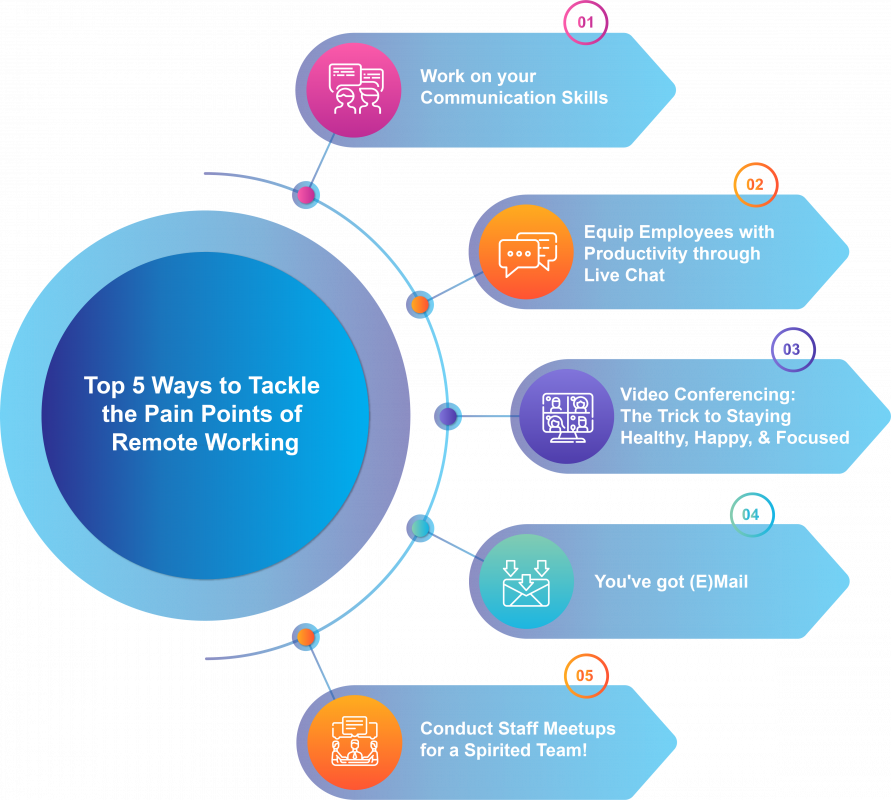 "Around 65% of respondents said they're more productive working from home, citing benefits like fewer interruptions from colleagues, minimal office politics, and reduced stress from commuting."
However, if you're struggling to channel your inner workaholic while at home, don't fret. Here are top-5 tactics you can embrace to ensure that the concept of remote working feels at home (pun intended).
You can watch this video if you don't want to read the whole article.
5 Proven Ways to Communicate & Collaborate with your Remote Team
A lot of workforces are now switching to remote working. With this new energy and workstyle, new challenges will also come. Since we all are experiencing the productivity threat and hence need a lot of tips to improve productivity, at the same time we can work on identifying the pain points and work on improving it. Let's share with you guys some paint points and its solution.
1. Work on your Communication Skills
"Our individuals and managers make a more conscious effort to clarify roles, expectations, and to discuss progress with remote employees."

Shanna Tellerman, CEO of Modsy
This might seem like an obvious suggestion, but you'll be surprised to know that often times, managers forget to set clear expectations about the day-to-day goals of employees who're working remotely. In fact, research by Gallup states that
"An astonishing 50 percent of employees don't know what's expected of them."
To counter this, Barbara Larson, a professor at Northeastern University who studies remote working, suggests:
"Ask [your manager] if they don't mind having a 10-minute call to kick off the day and wrap up the day. Often times, managers just haven't thought of it."
There you go. It's simple and easy, and best of all, it takes all of ten minutes. At the same time, it important for managers to communicate what's going on at the organizational-level so that employees don't feel left out and 'stranded' from the mothership. As a manager, you may be in constant touch with the senior management, but the employees? Hardly so.

2. Equip Employees with Productivity through Live Chat
It's no secret that seamless and effortless communication goes out the window with remote working. But there's good news. What goes out the window with WFH bounces onto your virtual screens, and how.
First things first, you need to ensure that your basic infrastructure is up-to-the-mark. Start by setting up "remote work-friendly" collaboration tools such as Acquire's live chat software. This smart tool helps capture and store data by way of chat logs, stimulates one-to-many conversations in real-time, and allows you to connect with your team on a personalized and interconnected level.
That's not all. Using live chat, you can conduct webinars on "Coping Strategies during WFH" with greater ease, and lend a helping ear to employees who may be struggling with an unfamiliar working style.
Plus, since you're communicating with everyone in real-time, you can work towards greater inclusion among peers, ensure your employees are always on the same page, and balance screen time effectively so that everyone feels valued and heard. One robust software, multiple goals, happy team members – the best of all the worlds if you ask us!
Further, you can manage your human resource team and their projects with the CuteHR remote team management tool. This tool helps you with all features like
Team management,
Project management,
Time tracking,
Performance monitoring,
GPS tracking,
Document management,
Applicant tracking systems,
Payroll and Invoicing
Attendance and leave management remotely.
The best part is, all these things you get for FREE up to 10 users.

3. Video Conferencing: The Trick to Staying Healthy, Happy, & Focused
"Experts say "high fidelity" communication like video calls while working from home fights isolation while safeguarding team unity and productivity."
Let's face it. WFH requires you to be virtually alone (pun intended). Sure, day 1 feels like a joy ride. You enjoy waking up (relatively) late and have the luxury of working in your pajamas. But as the days roll by, remote working can get isolating – as the State of Remote Work 2019 states – and increasingly unstructured.
Luckily, there are several useful and easy-to-use video conferencing apps such as Zoom, Skype, Google Hangouts, among others that you can use. If you're wondering about when to use this option, follow this golden rule: If you can't explain it in a few sentences, it's time to video call.
Handy tip: Invest in a good pair of headsets to ensure that your video calls have great audio clarity.
Additionally, this is the perfect time for senior management and leadership to amp up their communication and be seen/read/heard. Tsedal Neeley, a professor at Harvard Business School, offers a useful tip:
"Every CEO of every organization needs to be much more visible right now — through video conferencing or taped recordings — to give people confidence, calm them down, and be healers- or hope-givers-in-chief."
4. You've got (E)Mail
"Companies such as Merck have created acronyms for their digital communications like "Four Hour Response (4HR)" and "No Need to Respond (NNTR)" that bring predictability and certainty to virtual conversations." – Harvard Business Review
The once dreaded (and endless) face-to-face meetings suddenly translate into quick and crisp emails, calls, and messages. This not only maintains productivity but enhances it due to less time wasted during inevitable meeting banter and chit-chat sessions.
That said, here's a helpful tip for you: Make sure to send out a reasonable volume of digital communication when connecting with your team. Tsedal Neeley shares a valid point with respect to following up with virtual meetings:
"Say you have a video conference about a topic. You follow it up with an email or a Slack message. You should have multiple touchpoints through various media to continue the trail of conversation."
Whether you're getting in touch via SMS, Whatsapp, calls, or emails, It helps to remember that remote working, as of now, is work in progress and lies in a state of constant experimentation. Communicate on emails in the right tone and with the right frequency, and you're golden. Additionally, opt for sending emails to your team instead of calling everyone so that people have the flexibility of responding when they can. Remote work need not be controlled by a remote controller. By extension, allowing greater flexibility and trust can be your best bet yet.
5. Conduct Staff Meetups for a Spirited Team!
"Celebrate birthdays, give public praise for goals reached, and projects completed. Make time for casual conversations and 'water cooler' chat." – Sara Sutton, CEO, and founder of FlexJobs.
Believe it or not, staff meetups become more popular and desirable when working from home — maybe, it's the loneliness talking or the fact that you miss those productivity-inducing water-cooler talks. Whatever be the case, staff meetups shoot up. From creative Zumba classes and remote happy hours to virtual pizza parties and home workout sessions, companies are going above-and-beyond to make these meetups fun!
Plus, there's the added advantage of truly getting to know your colleagues, inquiring about reading lists, to-do lists, TV watching lists, board game lists, you get the idea, right? This is exactly what Niki Lustig, Director of Learning and Development at GitHub suggests as well. She says:
"Leaders should start one-to-one and team meetings by "checking in" and sharing how each person is doing. They should also encourage people to share more about themselves, perhaps sharing a personal story from the weekend. Lastly, everyone should use a real photo for their profiles, instead of an avatar."
Handy tip: If you don't already have a home office, take time to build yourself one. Invest in an ergonomic chair. Get the outside in and buy air-purifying indoor plants. Get onto Pinterest or Instagram and do your research. After all, working on your laptop, plopped up on your bed, will ensure low levels of productivity and endless hours of napping!
Closing Thoughts
"From 2005 until 2017, the United States has experienced a 159% increase in remote work." – FlexJobs and Global Workplace Analytics
Get this. Research by Upwork predicts that "By 2028, 73% of all departments will have remote workers." Plus, data by Fast Company predicts that "Remote work software, like mobile work tools and virtual reality conferencing, will become the preferred form of communication – even over face-to-face meetings. AI will also likely play a major role in managing remote staff." Clearly, the future of remote working is bright, shiny, and here to stay.
That said, if you're still struggling to make sense of this dynamic shift in working style, just follow this one tip: Develop rituals (as suggested by the Harvard Business Review) and treat working from home like you're working out of your office. As preachy as this may sound when there's a change in mindset, the rest will follow.
Kristen Shockley, an associate professor of psychology at the University of Georgia, calls it "psychological segues." She says that "These segues can help put you in the right mindset: like a 20-minute coffee in the morning and then exercise right after work to open and close the day."
We couldn't agree more. Penny for your thoughts?