How to improve employee engagement is a big question in any organization. If you can comprehend what they like about the workplace and what they don't; what motivates them and what doesn't; then you can strive to enhance employee engagement. These details can be fetched by getting feedback directly from employees. From feedback, you can extract necessary details that can help in managing the employees more appropriately. For this, you can conduct some easy surveys using survey tools.
Surveys do not only help in emphasizing the importance of customer experience but sometimes they also help in understanding employees. Creating surveys is no longer a difficult task as there are many handy tools for that. If you do not have any idea about what questions you can put on the surveys, then you can look out for some survey question examples in the tools.
Top 11 Employee Engagement Survey Tools To Help You
Some of the best survey tools are discussed below:
ProProfs Survey Maker
CuteHR
Qualtrics
SurveyMonkey
TinyPulse
Podio
Google Forms
Energage
Zoho Survey
Typeform
Glint
ProProfs Survey Maker is an easy-to-use and powerful online survey maker that is widely used by marketers, organizations, event planners, and educators. Known as one of the top survey tools, this software is specially designed for conducting market research, collecting customer feedback, analyzing demographics, and evaluating the effectiveness of surveys. It has mobile-friendly features that ease down the survey process. Moreover, you can easily design and create any type of online survey by yourself.
(a) Features of Proprofs:
Scored Surveys And Questionnaires
Knowledge with survey questions
Image And Video Support
Predefined Custom Themes
Welcome And Thank You Pages
Embed Surveys On Websites Or Blogs
Send Surveys Via Email
View Data As Charts And Graphs
(b) Why Use ProProfs Survey Maker?
ProProfs Survey Maker allows complete customization of your surveys by including logos, colours, background images, and call-to-action buttons. This software facilitates the sharing of surveys and questionnaires in different ways. Also, the surveys can be shared on social media platforms like Facebook and Twitter. The survey reports and analytics are generated in real-time.
(c) Pricing of Proprofs:
Pricing starts at $7/User/Month (annually)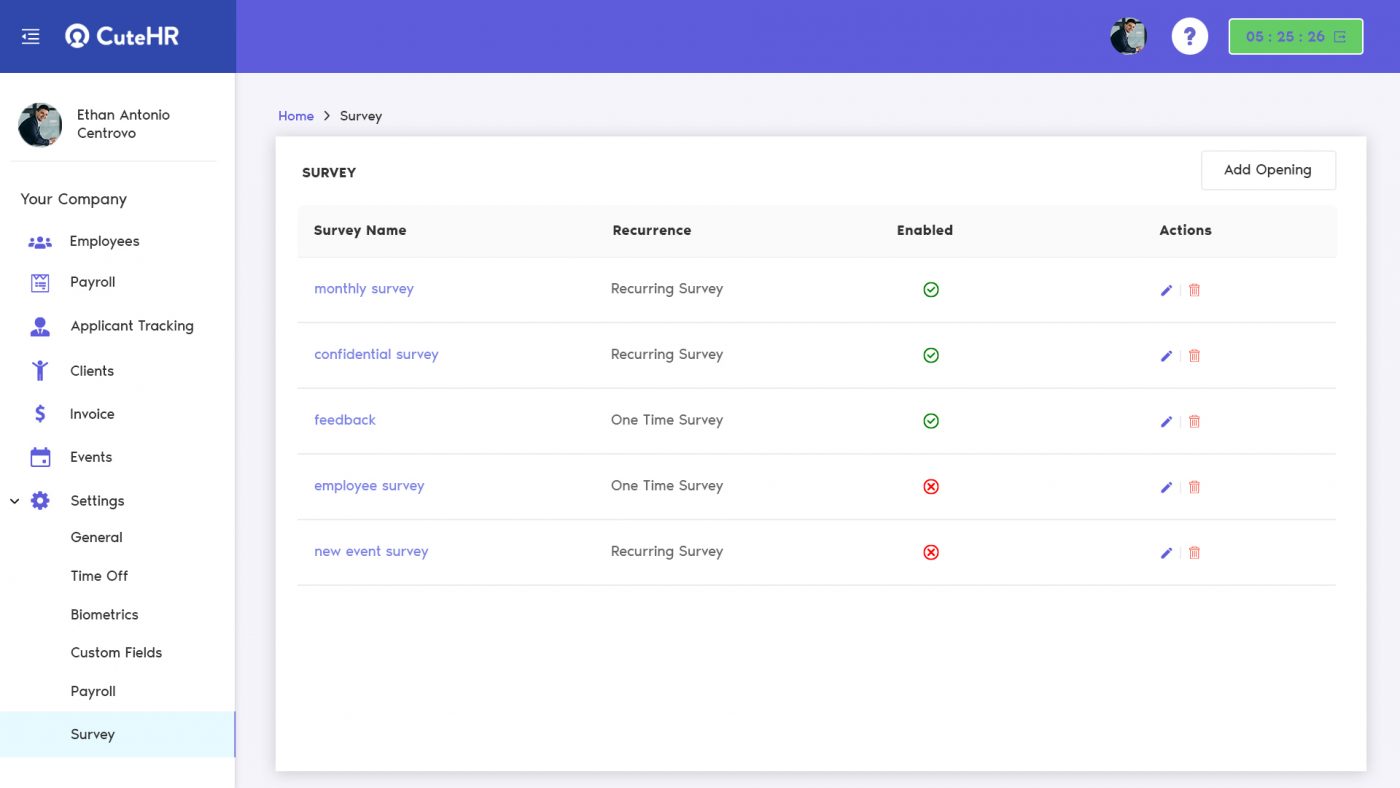 CuteHR integrates one of the smartest survey tools in its dashboard. A company or any business can easily use this tool to create a survey for engaging employees or taking feedbacks. CuteHR allows users to create surveys that can be anonymous or confidential. The survey tool allows you to make this survey happened on a recurring basis. It can be enabled or disabled as per the requirements.
(a) Features of CuteHR Survey Tool:
Share an anonymous survey questionnaire.
Create recurring surveys.
View survey data.
Send surveys via emails.
(b) Why Use CuteHR Survey Maker?
If you want to monitor the harmony existing in your workforce, just monitoring employee productivity would not let you identify the team feelings. To identify a better understanding of the team, you need to regularly allow them to submit feedback that can be anonymous. This helps you get a better picture of your workplace. If you want that to happen, cutehr is a good option for you.
(c) Pricing of CuteHR:
CuteHR is a free tool for small businesses up to employees. Beyond that, its 2$/ users (Annually) and 3$/users (Monthly).
Qualtrics is a powerful software that helps an organization in measuring, prioritizing, and optimizing the experiences of the users. This employee engagement survey tool helps in monitoring, responding, and improving every employee touchpoint along the journey of the customer.
(a) Features of Qualtrics Survey Tool:
Employee engagement surveys
Employee exit interviews
Marketing research
Predictive intelligence
Product management
Brand management
360-degree feedback
Ad hoc analysis/Ad hoc reporting, etc.
(b) Why Use Qualtrics?
It is easy to track customer surveys using Qualtrics. It is easy to configure and offers ease of statistical evaluation. Developing reports is also easy and quick in this software. The software is intuitive, and the support group is great at answering questions fast.
(c) Pricing of Qualtrics:
Pricing starts at: $ 1500/user/year
SurveyMonkey is a well-known employee engagement tool that helps in quickly creating professional-looking surveys. Also, you can enjoy a powerful and easy-to-use analysis feature. It integrates surveys into the tools that you use every day. Also, it supports any type of team, project, and organization.
(a) Features of Survey Monkey Survey Tool:
Skip logic, question & answer piping
Answer validation
Trend tracking
Custom reports & filters
Email response tracking
A/B testing
Password-protected surveys
Collaborative survey editing
(b) Why Use SurveyMonkey?
This tool is best for creating surveys and sending them to hundreds of recipients. It features built-in visualizations and a prediction system. This is the most comprehensive survey creation, tracking, and monitoring solution appropriate for small, medium, and large business sizes.
(c) Pricing of SurveyMonkey:
Free trial for a limited period
Pricing starts at: $ 25/ User/Month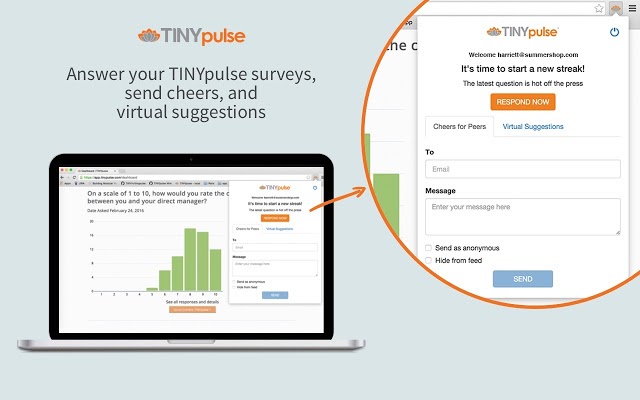 TinyPulse is one of the most reliable employee survey tools. It can send a quick, one-question pulse to your employees each week. This is mobile-friendly software, and your employees can respond to the surveys using the employee portal or mobile interface. The surveys are 100% anonymous so that your employees can give their honest feedback.
(a) Features of TinyPulse Survey Tool:
Feedback Collection & Management
Retention Management
Recognition Management
Company Culture Management
Data Analysis
Collaborative Reviews
Onboarding
All-in-one Dashboard
(b) Why Use TinyPulse?
TinyPulse helps in encouraging communication across the workforce. The suggestion box lets the employees voice their own valuable feedback that will help your business to grow. The live pulsing option makes the responses to be streamed directly on the dashboard. It provides data like response rates, average scores, and benchmarks.
(c) Pricing of TinyPulse:
Pricing starts at: $5.00/User/Month
Podio is a project management tool widely used for task management and increases team collaboration. This web-based platform flaunts an easy to use, intuitive layout that helps the team easily organize their tasks, set deadlines and assign responsibilities, and enhance collaboration. This tool, along with employee survey software, aids workplace engagement and helps analyze employee performance..
(a) Features of Podio Survey Tool:
Collaboration
Performance Management
Idea Management
Cost to completion tracking
Integration with popular apps
(b) Why Use Podio?
Podio is a robust employee engagement software that helps the team perform better by keeping every member updated in real-time. Employees can create custom folders, easily attach files, add comments, and view their status. Multiple projects and tasks can be tracked simultaneously using this tool.
(c) Pricing of Podio:
Payment starts at $9/enterprise/month
Google Forms is a free form builder tool that allows businesses to create free employee engagement surveys. It helps the user to create online surveys and questionnaires to collect and organize information. These forms can be used to plan an event, manage registrations, collect contact information, set up a poll, create a pop quiz, and much more. A user can send the entire data to a spreadsheet and analyze it as well.
(a) Features of Google Forms Survey Tool:
Surveys & Questionnaires
Custom forms
Data validation rules
Create polls & pop quizzes
Curated themes
Page branching
Question skip logic
Real-time response charts
(b) Why Use Google Forms?
Creating surveys is much easier using Google Forms. Users can choose multiple type questions, customize values, and reorder questions with drag-and-drop while creating a survey. Also, users can add logos, images, videos, colours, and much more. The real-time responses are automatically collected and stored within Google Forms.
(c) Pricing of Google Forms:
Google Forms is free as part of Google's online apps suite.
Energage is known as one of the best employee engagement platforms offering the best employee engagement surveys. This tool helps in learning, understanding, and leveraging employee ideas. It also encourages employees to participate and take action. With the help of this tool, an organization can understand, measure, and gain crucial information about the company's culture.
(a) Features of Energage Survey Tool:
Confidential questions & conversations.
Due date tracking.
Employee coaching.
Employee development tracking.
Employee skills tracking.
Feedback management.
Survey outcome summary.
Workplace insights.
(b) Why Use Energage?
This tool helps in analyzing the real data with the help of surveys amidst employees. The survey information can be utilized to engage with employees and create a course of action for the entire year. Also, it helps in managing employees. It offers a "coach" application that helps the managers in aligning the personal goals of an employee regarding the needs of the organization through catalytic coaching conversations.
(c) Pricing of Energage:
The pricing varies based on the chosen subscription model.
Zoho Survey is a well-known online survey and questionnaire creation tool that is used by small to large enterprises. It's easy to use and integrate. It creates surveys that target the audience and collect valuable feedback. This tool offers all the essential features for creating and distributing the surveys as well as analyzing the received data.
(a) Features of Zoho Survey Tool:
Unlimited free surveys
Survey builder in 7 languages
Email polls
30+ question types
Over 200 expertly made templates
Personalized themes
Disqualify responses and respondents
Buy responses from survey panels
(b) Why Use Zoho Survey?
This tool offers more than 200 ready-made templates on diverse topics that help you in getting started. Also, you can integrate it with Zoho CRM, Campaigns, SalesIQ, MailChimp, and Google Docs.
(c) Pricing of Zoho Survey:
Pricing starts at $29.00/User/Month
Typeform is a type of versatile data collection tool that helps small, medium, and even large businesses in creating easy surveys. Users can easily create forms, quizzes, surveys, etc. This tool makes answering easy and fun so that you can collect better data.
(a) Features of Typeform Survey Tool:
Design your own themes or use a template
Wide choice of pop-up & embed options
Connect your Typeform with over 250+ services using Zapier
Fully customizable respondent notifications (emails)
Survey management
Feedback collection
Surveys & feedback
Web forms
(b) Why Use TypeForm?
By using Typeform, a user can create surveys by customizing the designs in a way that they speak the language of the brand. And as it works on every device, this tool is highly comfortable to use. It offers multiple integrations, including MailChimp, Google Sheets, and Salesforce.
(c) Pricing of TypeForm:
Pricing starts at: $ 35/User/month
Glint has integrated SaaS that is meant for medium and large-size businesses only. It comprises four core solutions that help organizations enhance their working environment. It is a cloud-based people success platform that features employee engagement programs like mobile-ready pulse surveys. The tool helps in providing greater visibility on the health of the workforce. The responses are submitted and analyzed in real-time.
(a) Features of Glint Survey Tool:
Artificial intelligence
Cultural alignment
Driver impact
Goal management
Machine learning
Social recognition
Surveys
(b) Why Use Glint?
This survey making tool offers an easy-to-use dashboard where the user can view driver impact reports, heat maps, KPI linkage, etc. It offers an insight into the entire journey of a team member. Also, it offers an employee lifecycle solution that uses cross-program intelligence features and third-party HRIS integration.
(c) Pricing of Glint:
The price varies according to the chosen subscription model
Final Thought:
Using survey tools to improve employee engagement can prove to be beneficial for both the company and the employees. The companies can discover ways to create a happy and satisfying ambience for the employees which will boost employee performance, retention, and overall benefits for the organization. Outline the company policies, categorize the employee and company needs, and identify the type of tool from the list mentioned above that will benefit your business the most.