HR plays a vital part in the success of a business and so is the important department in any organization or business offices. For many years the HR best practices has been controversial and remained a hot topic to discuss among growing businesses.
What is the Definition of HR Best Practices?
It is a plan, principle or idea that is accepted universally by companies offering them with the best business execution. This is irrespective of which company, industry or niche is it applied to.
However, we cannot generalize the best fit case for HR best practices to any format but it is necessary to have a defined HR Aims. This HR aims should revolve around a goal all the business department is aligned to that razor-sharp goal. That's how the best HR Practice can help you build strategic human resource management.
To support your Human resource department concentration towards the business growth, we have compiled some of the best tried and tested HR best Practices, that we personally follow in our business. These practices will help you to see a future where you would have increased employee engagement, improved retention in the team and much more. Excited? Let's know more.
Difference Between the HR Practices And the HR Activities
TO optimize your human capital investment, both HR Best practices and activities play a vital role together. You need to understand first how these two different words have different importance as well. When you combine both of them in a strategic order, you can enjoy reaching your business goals.
Your Human resource head or an HR in the HR Department creates the frameworks, rules, and regulations to give a direction to manage the employees. These plans are in synchronization with the companies' executive plans. Some of the universal HR best Practices include:
Planning the best HR and setting the HR department goals
Creating Plans that can manage the HR Department workflows,
Setting up calculating parameters to find the program effectiveness.
Designing diverse plans to enhance the quality of workplaces.
Formulating leadership programs and talent acquisition ideas.
Building motivation at the workplace strategies.
Working with the team managers for structuring the performance monitoring and assessment program.
Setting up policies for employee advancement.
HR activities are the daily routine activities to apply the strategies determined by HR practices. They allow the goals of the HR department to be carried out. HR activities that maybe include:
Payroll
Surveys
Selection and Recruitment
Development and Training
Compensation and Favors
Relations of employee and labour
Retention
Security and health
Employee attendance
Overtime and bonuses
In a simple answer, HR practices try to identify business needs and build plans around it and HR activities are responsible for executing the plans that meet business goals.

To correlate with the practice, the HR practice should create a natural progression to HR activities directly. If one or the other is ignored, it can create a disconnect that will be felt through the company. There is no problem working in such a way as your company can function this way, but not at its best.
When HR practices and HR activities are combined and working hand in hand, HR departments have the capability to thrive, and your company benefits. Best human resources planning involves an understanding and integrated approach to HR practices and HR activities.
We have worked out the top HR Best practices that can give some essential tips to help get better of HR in your organization. In other words, if you concentrate on working over and over better at these areas, you'll likely see the most favorable results of what you aimed for. These areas include employment and selection, training for better skills and development, transparency, benefits for employees, employee incentives, compensation and evaluations, and terminations.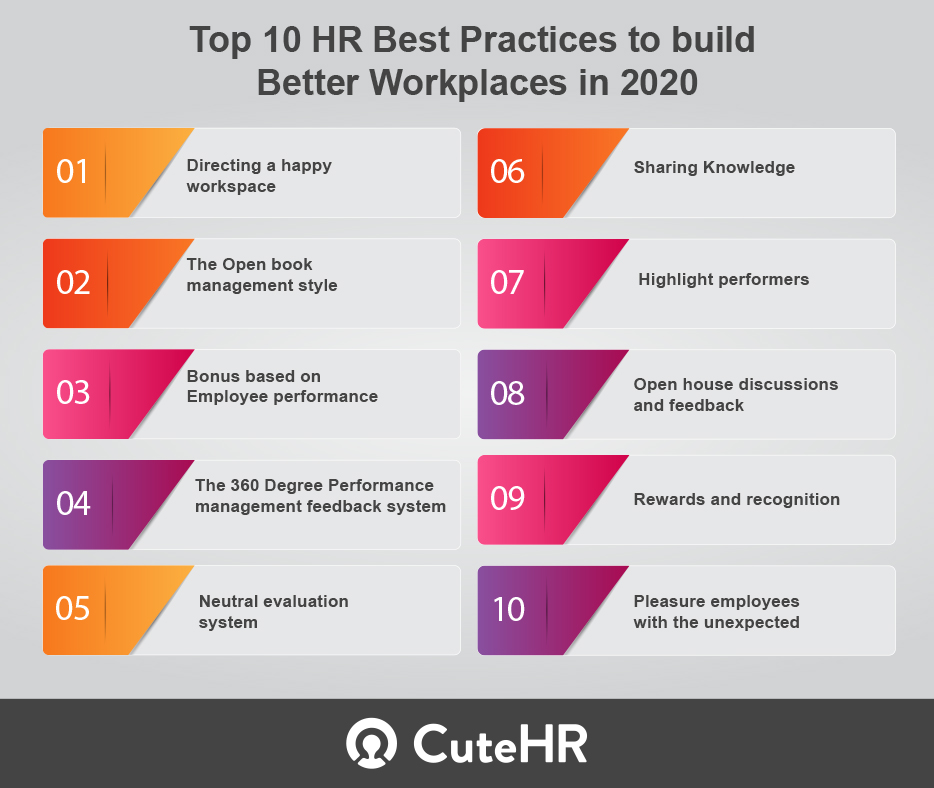 1. Directing A Happy Workspace
One of the best ways to keep employees determined at the desk and in the office is to maintain a safe, healthy and happy atmosphere in the office. Creating the environment alike home which eventually makes an employee dedicated as well to stay with the organization for a very long time. They should also do surveys to capture their thoughts and remarks regarding the office's situation. You can consider adding any printed forms or HR Software to run an anonymous employee survey program to get feedback.
You can carry our survey's using some of the best
free email services
and
free autoresponders
.
2. The Open Book Management Style
By open-book management, we mean having a transparent business. Your organization must share company updates with the employees as well. It makes a confident statement that the workforce is as passionate about the business as the management. This will motivate your employees towards archiving business goals because they will have a long term vision as to where and for what they are working. This will not only improve your business productivity but you will have the least issues with challenges like employee engagement and retention. You can prefer switching to some tools like CuteHR that help you share business updates directly on the dashboard.
3. Bonus Based On Employee Performance
Rewarding the employees who have been creative and have been doing wonders for the organization is a good way to keep them enthusiastic. Bonuses must be assigned in such a way that employees understand that there is no payout until the company reaches a particular profit. Additional criteria could be the team's success and the individual's performance. It also helps in keeping the determined and dedicated employee back for the office.
4. The 360 Degree Performance Management Feedback System
This system which demands feedback from peers, and juniors, has been frequently adopted as the best feasible method for collecting performance feedback. Every person in the team is accountable for giving appropriate, constructive and positive feedback.
5. Neutral Evaluation System
Developing an evaluation system that clearly links individual performance to corporate business goals and significances. Every employee should have well-defined reporting relationships. The employees rating themselves should be a part of the evaluation process as it empowers employees. Evaluation becomes neutral if it is based on the achievements of the employee, tracked over the year. For better objectivity, besides the immediate boss, each employee should be evaluated and judged by the next higher level as in reviewer. Cross-functional feedback, if obtained by the instant boss from another manager (for whom this employee's work is also imperative), will add to the justice of the system.
6. Sharing Knowledge
To ensure that knowledge management supports strategy, one should adopt a systematic approach. Store and save knowledge in databases to provide better access to the information posted before by the company or the employees on the knowledge portals of the company. Whenever an employee returns after attending any capabilities or skills development program, sharing essential knowledge with others could be made important and mandatory. New and innovative ideas should also be posted on these knowledge-sharing platforms. Anyways, how to maintain a knowledge base and how to store data requires further and detailed plans.
7. Highlight Performers
The best performance and employee achievement must be kept prominent though company intranet, display boards, etc. It will give them boost and encourage others to put in their best, for creating a competitive environment within the company.
8. Open House Discussions And Feedback
Well, Ideas rule the world. The organizations that wish to create gigantic ideas and try to execute them working on it. The employees play a vital role in creating and discussing the idea, they are of a great source. Lack of planned and strategic mechanism is the only thing that stops great ideas to be implemented in your organization. Open house discussions, employee-management meetings, suggestion boxes and tools such as Critical Incidents Diaries can help identify and develop talent.
9. Rewards And Recognition
Working on recognizing talent may not work, you need to couple it with public appreciation. Getting a cash bonus is often less significant than listening to the loud applause by colleagues in a public.
10. Pleasure Employees With the Unexpected
In the end, you should often delight your employees with unique things in the form of a reward, a gift or a certificate. Reward not only the top performers but also a few others who need to be motivated to display their best.
Innovative Companies Leading the Way
If you still wish to look for more inspiring HR best practices, you better turn attention to big organizations that are making headlines for being in the top 100 companies to work for.

Google is a giant, it is a great example we've used in this article because they have tried many innovative methods. One of the prominent thing that has distributed to Google's success is providing an environment where employee joy is a foremost priority. They provide facilities like free healthy meals, on-site laundry and fitness centres, paid parental leave, and childcare.
According to the source,
"73 percent of Google employees find their jobs to be meaningful,"
and the employees have no issues regarding salaries, with an average salary of $140,000. Even fresh employees regularly make around $93,000 per year. Google provides facilities like transportation and a flexible work environment, including telecommuting for work. They also struggle to maintain transparency and encourage employees to set high aims and learn from bad times.
Conclusion
If a particular organization works potentially on the HR best practices and effectively follow these principles, you could see higher employee preservation and happier employees who contribute their HR best practices of your corporation can be the highlight of your business by implementing flexibility and training within the HR department. Who knows, you may even end up on Fortune magazine's 100 Best Companies to Work For in a few years. And for any other issues regarding business dealing or partnership, you might need the assistance of a business law attorney to safeguard your property.