Learning is never-ending. Like any other industry, HR professionals also need to keep themselves abreast of the latest trends in their domain. From recruitments, employee engagements, workplace communications, all aspects of the employee life cycle keeps on constantly evolving with changing times. What worked yesterday may not apply today. Hence, it becomes essential for Human Resource professionals to upgrade themselves and make changes in their organization accordingly to meet global standards. Many HR books and write-ups that can help professionals amass valuable insights on the subjects.
Here is a compilation of the best HR books to refer to.
1. The Power of People by Nigel Guenole, Jonathan Ferrar & Sheri Feinzig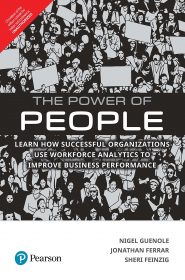 Data analytics is a fast-evolving organizational capability. This is a book by accomplished and awarded authors in their domains and it talks about using workforce analytics to improve business performance. The authors discuss how companies can leverage the use of analytics and improve decision making and communication.
"Building and running a workforce analytics function and delivering meaningful projects that improve business performance can be complicated, but learning from the experiences of others can help in successfully navigating the journey."

In the authors' words
This is an excellent book and stores valuable insights on improving workforce capabilities. There are expert inputs, tool guide and exhaustive research on the topic to help Human Resource professionals to build potential and capability around analytics.
This book will help you to learn best-practice data management and usage of technology rightfully to have the maximum benefit out of workforce analytics.

2. HR on Purpose: Developing Deliberate People Passion by Steve Browne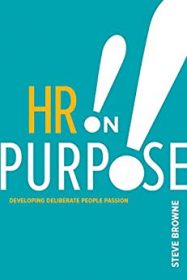 This exciting book is by renowned author and thought leader Steve Browne. He has done some monumental work in his career span to build and connect the HR community.
In this book, the author emphasizes what notions are built around Human resources as a business function and strategies to break them. It talks about transition in approach from what HR should be to what HR could be through innumerable opportunities.

The book has very engaging content around building "People's Passion" and has lots of examples that emphasize the importance of keeping the people first and focus on driving business through the right people-centric focus. This is an effective way of business and maintaining the bottom line.
Steve Browne has a passage in this book that says:
'When you go into a grocery store, you are drawn to the things that are placed to catch your eye. Companies intentionally pay for better shelf space so that you will look at their brands in the hope that you're more likely to buy their goods. We have to do this in HR. We have to get in the line of sight of our employees and make our goods attractive and accessible.'

No matter where we are in our career, this book helps to polish the craft of Human Resource Management.

3. Good to Great by Jim Collins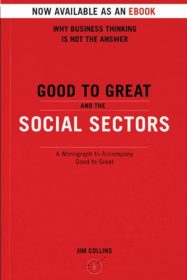 In the series of Jim Collin's book on how certain sets of companies defy the norms and perform exceptionally well and why some companies do not sustain success. The book highlights strategies as to how mediocre or bad companies achieve success and greatness.

This book focuses on the distinguishing factors that can help companies achieve the success that they aim to build. Through exhaustive research and comparative study on the fundamental factors that the companies functioned on, Collins and his team identify various reasons and parameters that enabled some companies to scale up the ladder and become good to great while others just either stayed good or perished over time. The findings of Good to Great study are quite impressive and laid emphasis on different styles of leadership, the culture of discipline, the role of technology in defining the paradigms of business, etc. to name a few.
This book is a must-read for HR professionals to understand the ingrained structure of organizations and what drives people to succeed.


4. Bring Your Human to work by Erica Keswin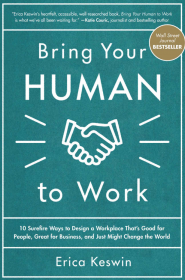 As Humans, we build connections wherever we are. The Workplace is no different where we spent most of our day. Organizations that realize the importance of positive connections help retain productive workforce who have a high affinity of job satisfaction and thereby bring the right competitive edge to the company.
The most successful business leaders respect the fundamental qualities of openness and mutual respect for peers and colleagues. Companies that focus on building a culture of genuine care and human partnering inculcate an environment wherein employees want to work and perform.
The book mentions key practices that can enable in creating Human Workplaces. These include fostering open and face to face interactions, creating purposeful communications, encouraging community service, a sense of gratitude and building a healthy workplace.
Keswin's book largely implies to foster fairness and joy at work and have a working design that suits a positive work culture and influences the business positively.

5. Love 'Em or Lose 'Em: Getting Good People to Stay by Beverly Kaye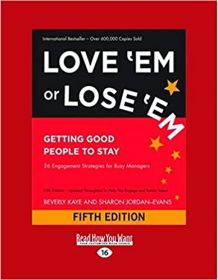 Employee retention and engagement is a perennial agenda for companies across the globe
This wall street journal HR books discusses 26 pointers strategies that managers can use to address the concern of unhappy employees and help them become engaged and productive. It unlocks various doable actions to analyze the different causes of dissatisfied and disengaged employees and methods to create a positive culture of inclusion and productivity.
Finding the right talent is quite difficult in this age of competitiveness and retaining is an art that can be learned. This HR books captures the right hold on the subject and is a user-friendly guide to building an engaged workforce.

6. HR Disrupted: It's Time For Something Different by Lucy Adams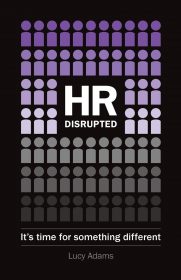 This HR books is by acclaimed CEO of Disruptive HR, an agency that is focussed on changing the obsolete HR practices into new-age strategies that cater to the Gen X workforce and its needs. The predominant questions that the book intends to answer is that if the organizations are to thrive and survive this volatile economic world, how do they lead, manage, and engage employees in different ways.
In this HR books, Lucy has highlighted how human Resource as a function needs to reinvent and transform its approach from a more transactional business function to a much needed strategic co-partner in shaping the ethos and core values of the organization.
One of the thoughts stated in the book says:
"We must re-imagine our relationships with our employees, becoming slicker, faster, and more creative in our work with them. And to do this we must stop playing the company policeman and learn to be the 'people experts' in a radically new way."
This HR books talks about practical solutions to break the chain of conventional thinking and try a different approach to creating all-inclusive HR strategies.

7. Agile People: A Radical Approach for HR & Managers (That Leads to Motivated Employees) by Pia-Maria Thoren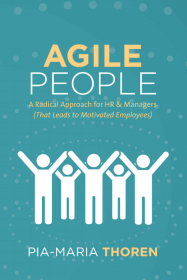 This path-breaking book is by Pia Maria Thoren who is the founder of the Agile People Movement and has great acumen in agile HR and leadership.
In her book, she emphasizes the importance of being future-ready and outlines different ways by which a fluid yet dynamic HR structure can be formulated to meet future business challenges. She mentions that to keep the teams motivated and productive, Human Resource professionals must think out of the box and create innovative strategies to uphold the quality of work life.
In Thoren's words:
"I intend to share Agile principles and practices so that we can create better organizations together, without hierarchy or restriction. Above all, this book is for professionals within HR—a department that needs to find a new purpose.
This book is a must-read to become an agile leader and an excellent guide to drive and deal with transformative challenges.

8. Artificial Intelligence for HR: Use AI to Support and Develop a Successful Workforce by Ben Eubanks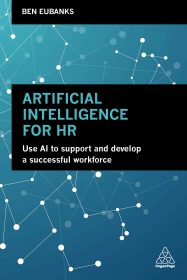 Artificial Intelligence is the evolutionary business aspect that is quickly transforming the way businesses are done.AI is going to overhaul the HR business function and support in many functional areas of HR specifically in anticipating the talent gap and hiring and attracting the right talent.
This book by Ben Eubanks highlights an overview of how AI has transformed the workplaces and how different opportunities can be created in the HR industry. It describes in detail how the use of Artificial Intelligence can impact the employee experience and hence as a business, HR needs to become more adaptive for such inclusions.
The book covers everything from recruitment to retention to employee engagement and learning and development and showcases how AI will impact each of the areas.
Covering practical examples, insights, research and case studies from various big companies like IBM, UBER, etc, the book is aimed to equip the HR professionals with the right set of AI knowledge to leverage their organization.

9. Talent Management Handbook by Lance A Berger, Dorothy R Berger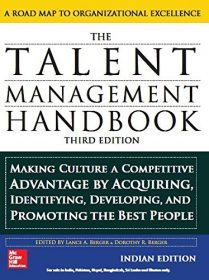 This book is the definitive guide for HR professionals, business leaders to learn the best ways to use talent management programs and create a culture of continued learning and delivery.
The latest edition of the HR books captures new trends and ways to build approaches to developing high quality and motivated employees to meet current as well as future business demands.
This HR books is a complete roadmap for HR professionals in shaping key talent management initiatives for their organizations. It fosters shaping the right culture within the organization that will lead to a competitive advantage for the company in times ahead. It is a go-to guide for understanding every aspect of the employee life cycle.

10. The Essential HR Handbook: A Quick and Handy Resource for Any Manager or HR Professional by Sharon Armstrong & Barbara Mitchel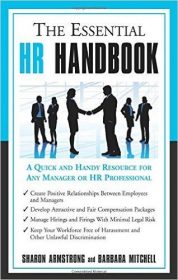 Sharon Armstrong and Barbara Mitchell are authors, speakers, and consultants of acclaim in the HR industry. The book "The Essential HR Handbook" covers all trending topics on HR and provides useful insights on the same.
The book covers various subjects like social media recruiting, learning and development to the multi-cultural workforce and provides handy tools that every HR professional can benefit from. This also covers tips on building a structured onboarding program for new employees so that they are ground ready in no time. There are also healthy compensation and benefits strategies that can enable in creating a cutting edge in the job market.
The book quotes: "To survive in today's world of work, managers have to be lifelong learners. They have to be open not only learning new things but also incorporating those things in their everyday approach to work."
The book is a must-read for budding HR professionals as well as trained managers who wish to polish the craft of managing people.

Final Thought
To wrap it up, the set of books mentioned is a part of the exhaustive list of best sellers and are handpicked to give insights on giving complete HR knowledge in oneness. The pool of knowledge is endless though and budding writers are contributing a great deal in sharing insight on HR as a business function.