With the gig economy taking shape in the recent, corporate sector apprehended a sharp rise in the telecommuter and freelancer population. There was already a large workforce offering premium quality services remotely. But evolving times have made hiring employees remotely a necessity rather than an option. Consequently forcing the HR department and recruiters to alter their hiring strategies.
Some quintessential changes are inevitable. But in the presence of a dedicated applicant tracking system and well-rounded strategies the transition to remote work can be a plain sail.
Hereby we explain how hiring employees remotely can be facilitated.
Need for Remotely Hiring Employees
To begin with, it is needed to understand remote work. In simple words, working remotely is working outside of traditional office space. Although it may or may not be needed to conduct the hiring process remotely for a work from home job. But due to its various advantages, remote hiring is a rising trend and the HR managers and recruiters need to get on board with its process.
Early on the corporate sphere saw a dearth of remote workers and many companies were not motivated enough to promote work from home. The biggest obstacle they met with was unawareness regarding the execution of various activities of remote working. These activities include – remote hiring, onboarding, communication, collaboration, and cohesiveness in work implementation.
But the increasing popularity and the developing reliance on telecommuters has forced the world to look up to remote working. This shift is seen due to
Drastic changes in the workplace culture, 
Provision of stellar individual services by telecommuters and remote workers
Rising profit of companies due to cost-cutting on infrastructural availability.
The advent of groundbreaking technological advancements.
The success of telecommuting has reaped remarkable results already.
"There is a stigma that remote workers are disconnected from the rest of the team, yet The Human Face of Remote Work proves that they are more sociable and reach out to develop strong relationships. The new technology and Remote work tools that enable communication and collaboration are actually forcing workers to pick up the phone, get face time, and create lasting bonds. This is the upside of remote work we rarely talk about." – Jeanne Meister Partner, Future Workplace
How to Begin Remote Hiring ?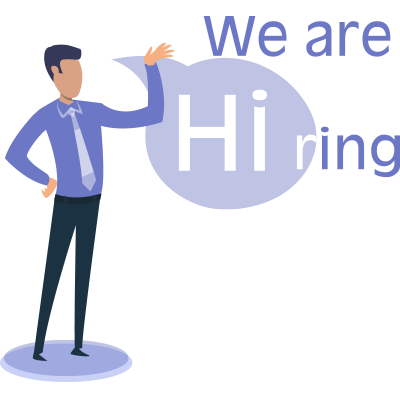 To initiate the elaborate process of remote working, a business or a company has to carefully lay down a network of individual processes that otherwise aid regular office operations. The primary step in this would be hiring employees.
To take advantage of the many benefits that remote working offers, HR professionals, managers and recruiters have to make deliberate attempts to modify their recruitment strategies. Remotely hiring employees requires facilities for successful
advertising, 
sorting, 
processing, 
onboarding, 
communicating, 
budgeting and 
resources allocation
All in all, an entirely separate approach is needed for remote hiring. Moreover, this burdens the companies to find a unique structure that can accommodate all their work and employee needs while functioning remotely. But with the added benefits of acquiring a huge talent pool, remote hiring can be advantageous. Scarce skills can be incorporated and benefitted from. In fact, the exceptional cost spent on infrastructure can be re-allocated for more productive use. Essentially, the deliverance of quality work and smoother operations can be facilitated with a focus on technology and remote work assistance tools.
Strategies for Remote Hiring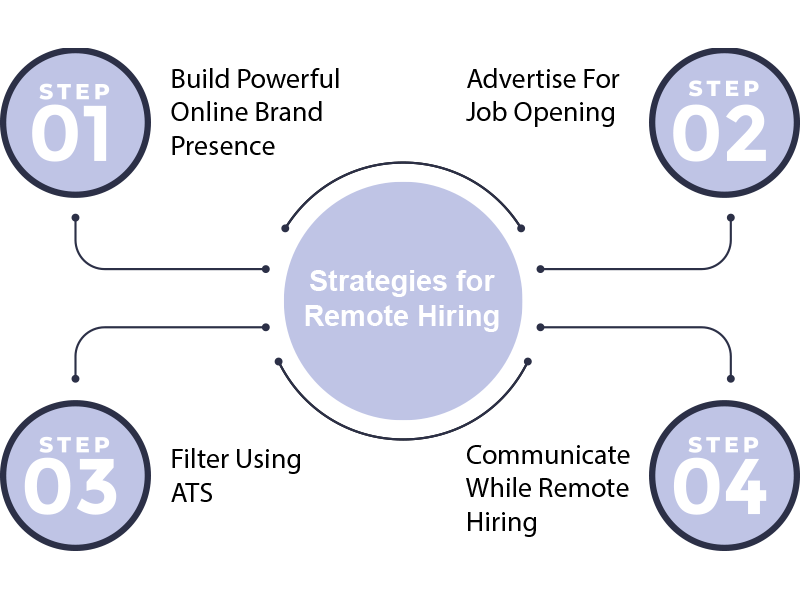 There are various rounds of scrutinization that can be curated for filtering and assessing potential remote working applicants. The key processes however remain the same in both remote and in house recruitment.
1. Build Powerful Online Brand Presence
Before embarking on a recruitment journey, a strategy has to be in order. Starting from scratch, the most logical and effective way to go about hiring is to invest in employer branding. It is advantageous for the recruiters to build a strong online brand presence. A clear illustration of company ethics, services, careers, social media presence, philosophies, achievements, etc erects a positive market image and allows the establishment of a connection with prospective candidates. Employer branding as a strategy involves testimonials by its employees to make an impression nonetheless.
2. Advertise For Job Opening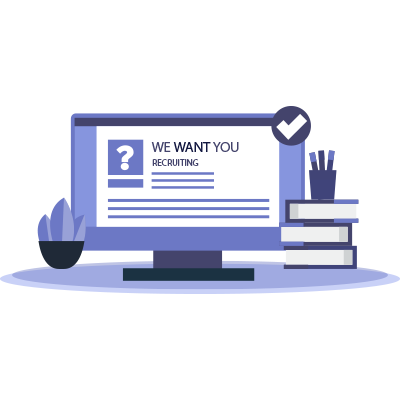 Advertising is critically needed to muster the needed candidature for any job. For this advertisement on popular job boards is the first step. These vacancies will easily reach the masses once they make it to job boards. Recruiters and HR managers can utilize the local, global, or industry-specific job boards like Indeed, Monster, FlexJobs, RemoteOK, etc. The choice of job boards is solely dependent on the niche of operation requirements and the hub of the target audience.
3. Filter 
With applications rolling in, there arises the need for their good HR management. This can be brought about through the usage of an Application Tracking System (ATS), and other artificial intelligence infused tools. With these the HR managers have full freedom to easily sort, filter, organize, and select the best candidates out of an entire talent pool.
4. Communicate
The final step when hiring employees remotely is to interview them. Very fantastically this can be carried out through video calling or phone call when hiring for a remote worker position. After this task is achieved, the process of onboarding can be commenced.
This was a brief overview of the key recruitment strategies for hiring employees remotely. There are many smaller processes that are involved in each of the above four strategic processes and the HR managers/recruiters must diligently cater to the demands of online recruiting.
Tools for Hiring Employees Remotely
The need for virtual job creation can be satisfied as more and more companies become aware and come to rely on this mode of operation. Technological advancement to foster remote working comes from exposure to various tools, apps, and technology. This builds up the most widely utilized strategy for remote hiring – taking the assistance of technology.
The two main methods that aid the virtual screening and hiring process are –
Application Tracking System (ATS)
Video interviews
We systematically approach each of these two dominant technologically driven aids. A combination of these two is crucial for remote hiring.
1. Application Tracking System (ATS)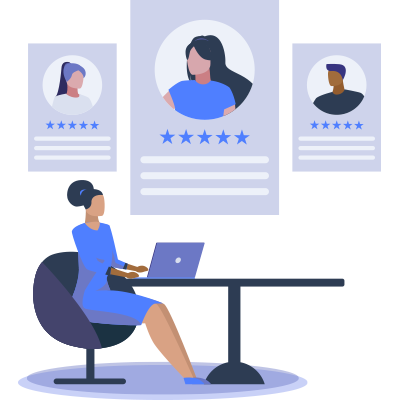 Hiring employees always requires in depth screening, verification, skill and personality assessment to test their suitability for the job. The seriousness of this process is even more heightened when hiring is taken online. To ease the process, there are numerous tools like video calling, online tests, screening rounds and demo tasks to be made use of. Essentially all these activities will render useful once the recruiters and the HR managements worldwide find remote hiring and working dependable to suit their needs.
To further streamline the process of hiring, the most popular tool is Application Tracking System (ATS). An ATS serves as one-stop platform to
sort application
shortlist
select
assess 
screen
verify and background check 
pipeline application into hiring levels 
maintain records
track hiring progress
interview
onboard
In a nutshell, ATS is a technological intervention in the hiring process that functions as an integrated hiring aid. Over the years, many ATS service providers have cropped up. This shows that remote hiring and operations have been rampant.
ATS Success
A tool like ATS gradually simplifies and provides for electronic handling of the hiring and recruitment process. It works by extraction of essential data from the applications received by interested candidates or through partnership with many resume boards (like recruitments websites/portals). These resumes are then safely stored within the ATS. Here these applications are organized and stored. Through the varied roles that an ATS performs, one can easily recognise that it makes up an integral part of the Human Resource Management System (HRMS).
One such extremely dependable and diligent HRMS is CuteHR. It performs all the functions central to an applicant tracking system and makes up for a reliable human resource management system. This cloud-based platform stupendously automates all the various HR activities and allows for a hassle-free execution of all the HR management activities. Our CuteHR tool furnishes –
Employee management, tracking and solutions to meet business goals
Organizing, sorting and easy access of employee information to fluently manage the human resources
Enhanced employee engagement and communication to increase team productivity.
Integrated availability of all the key HR responsibilities and functions. 
With the advent of reliable ATS like CuteHR, companies are easily able to sift the most befitting candidates by allowing for an analysis of the most significant criterias. What makes the ATS most widely trusted tool by companies is absolutely due to the time it saves. Many conglomerates of the world like Facebook, Walmart, Starbucks, Adobe, Philips, Airbnb, Nike, etc judiciously use the application tracking system.
How an ATS Works?
The ATS is a byproduct of artificial intelligence. This system for application tracking scans through innumerable application submissions and forwards the most relevant candidature to the recruiters. The scanning is based on a 'keyword centric' criteria. Applications are processed by matching or looking for specific keywords, pre-determined by the recruiter (depending on the requirement details and specification). The recruitment department further sorts and schedules video interviews for the next round.
The prudent human resource department has been making use of the ATS for hiring.
The widespread usefulness of ATS can be understood from the research of Fortune 500 companies by Jobscan. The results show
2. Video Calling for Interviews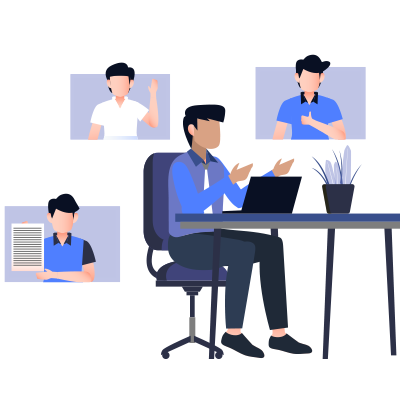 The most exclusive utilization of video calling is during the process of hiring employees remotely. Recruiters globally have been wielding video calling as a crucial apparatus for remote hiring. However there is also the alternative to hold a telephonic interview. But the rising popularity and dependence on video calling over the years is proof enough of its eminence.
A research by Software Advice in 2015 shows that
Not only is video calling more economical but its utilitarian nature and availability makes it better than the tedious process of traditional hiring too. In fact video calling is superior to phone calling for screening as well.
The striking rate at which managers and recruiters are electing video calls as a step in recruitment can be comprehended from the sharp spike of its usage. As per trends by Software Advice,
57% of the candidates surveyed would prefer video calling. Moreover, 67% of the remaining 43% would opt for a telephonic interview.
Additionally video calling functions as a highly significant tool for the purpose of remote communication and collaboration.
For hiring purposes, there are two ways to go about a video interview.
A one-way process – This is an asynchronous method of interview. Here a bundle of questions are given to a candidate and they have to film themselves giving the response they deem fit. This mode of interview makes use of pre recorded video interviews. However, such an approach can be utilised by recruiters and the HR management when they are burdened with a lot of shortlisted applicants or are running short of time.  
A two-way process – In every perspect a two way dialogue in an interview will allow the recruiter to test a candidate's potentiality. It is recommended to opt for the two way dialogue for a video interview. Although time consuming, it is the right means to aptly assess a person, his responses and his personality. It is a live and a synchronous method of conducting an interview remotely. 
After determining the type of video call to conduct an interview for remote hiring, picking out the best tool for it becomes indispensable. The market is currently inundated with superior quality and reliable video calling applications. Here Google Hangouts, Zoom, Skype, FaceTime, and Whatsapp video calls remain the most sought after ones. These free of cost apps might confuse a recruiter. Hence it is viable to pick one of the video calling tools for an interview round depending on –
The type of video interview, 
The number of people participating in the video interview 
If or not the candidate is compatible with that chosen tool. 
There are several benefits of this video calling that makes it the most facilitative tool in hiring employees remotely. A few of these include –
Swift screening process
Increased transparency
Aids employer branding
Cuts cost of hiring
Allows the recruiters to meet the candidate and vice versa.
Hence, technology in the form of ATS and video calling is seen to play a massive role in the inceptive exercise of remotely hiring.
Reality of Remote Hiring
Managers and HR professionals must understand how a remote worker recruitment is different from an in-office recruitment. Such an understanding comes from apprehending the ground difference between the two modes of corporate functioning. Knowing what separates the two and their particular demands, gives room to adapt and acclimate. Majorly what differentiates inhouse operation from remote operation is –
Hiring – How a firm is able to establish trust and verify a potential employee. Furthermore, carry forward the process of onboarding and orientation. 
Management – How team managers exercise control, supervision, organize and administer. 
Communication – How there is smooth communication vertically and horizontally. 
Execution & Delivery – How well the workforce is able to produce results and put in their understanding of company ethics and requirements. 
From the above activities, hiring is a requisite. But remotely hiring employees requires a comparatively detailed approach and dedication. Without the luxury of a person's physical presence, assessing his skills, behavioral aspects, conduct, compatibility, among criterias becomes tricky. This inconvenience arises due to-
Less remote hiring and virtual job existence in the past corporate and business sphere. Consequently, the workforce and recruiters aren't adept or experienced to take on the processes virtually.
Secondly due to lack of technological availability and utilization cognizance.
As much as the managers and recruiters would like to believe the process of remote hiring or working to be impersonal and inferior to in-house traditional working methods, there is proof that shows the intervention of technology has largely benefitted it. The usage of collaborative technologies has been rampant, successfully nudging the employees to establish a connection, which in turn provides transparency. The Human Face of Remote Working study shows that 94% of employees make use of this collaborative technology. Whereas 90% of the workers vouch for its usefulness to boost productivity, among remote teams in different locations.
Conclusion
To meet the dynamic and volatile demands of the corporate and business sphere, the HR managers have to become comfortable with remote working or telecommuting. For this to happen, a change in strategy and approach is indispensable. Here the aim must be to gain flexibility, provide for training (both in-house and virtual), utilize technology, establish a seamless communication system and track growth. Consequently, specific gifts of technology aid in this transition to achieve the above mentioned targets. Recruiters must get working with the new yet relatively facile way of hiring employees i.e. remotely or virtually. There are many tools like Application Tracking System (ATS) for scrutinizing applications, video calling and phone calling to conduct interviews and tests. A proper plan of action and necessary experience with remote hiring will brick a pathway for recruiters to effectively carry out the process of hiring while their business is running remotely.