Every CEO is on the lookout to acquire only the best talent for his organization. But most of them are unable to identify or develop talent, let alone harness it. This gives rise to indefinite struggles within the organization pertaining to, talent management, operations, and output. Also, with the rising global competition, the talent of an organization is most susceptible to become the ultimate pressure point. To avoid this fate, there are sophisticated and tailored talent management models in place. These models judiciously outline every individual process for astute talent management. This facet underlines the resurgence in talent management over the years. 
Through this article, we aim to understand talent management models, how to curate them, their areas of vigilance, and their strategic utilization as a business strategy. 
"Talent management is an ecosystem of different people processes and when they all work together, a significant step-change in organizational performance is achieved. To maximize return on investment in talent management, organizations need to look at the talent in a holistic, end-to-end way, and be able to connect the dots across the talent pools, particularly for critical roles. Analytics, based on the now and the future, must be integrated throughout." 

Morgan Akari, People & Change Director, KPMG
Discern Talent Management As A Business Practice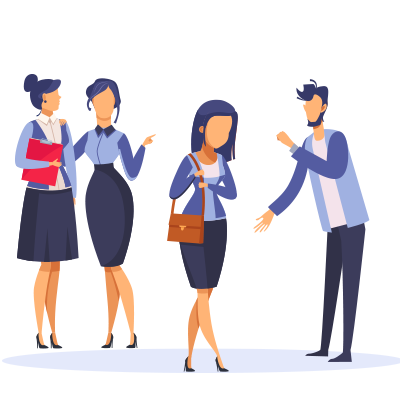 Besides identifying the need to hire talent, its overall development has attained maximum recognition in the global market. Highlighting the popularity of the talent management process, it was reported by a study in 2010, that
The above study was found in Scullion, H., Collings, D.G. and Caligiuri, P. (2010) "Global Talent Management", Journal of World Business, 45, 2, 105-8
Over the years, the strategies and practices to 'manage' talent have cropped up. But research and surveys also hint at the incompetence of ill-structured and incompetent management. 
Where on one hand organizations comprehend the need to allocate time and resources to talent management, many times they fail abysmally to realize this aspect into reality. Research by Conger and Lawler indicates that when it comes to issues of human resources or talent management, the boards comparatively dedicate less time. Consequently, matters related to hiring, development, employer branding, talent integration, etc, are overlooked.
The above study was found in Cogner J, Lawler E, Addressing the Human Resources Knowledge Gap in Corporate Boardrooms, People + Strategy, Volume 38, Issue 2, Spring 2105
These two contrasting studies bring forth the inability of organizations, to invest their time, strategies, and resources in a consequential linchpin like talent management. In a dynamic global business environment, talent management models ought to be implemented as business strategies. This elaborate process begins with the identification of talent and developing it to benefit the organizations. 
As a business strategy, efficient talent management processes are directly related to higher performance and increased output. McKinsey's study, "War For Talent" (2000) is proof enough to highlight this aspect. The study done on US companies found that those which focussed on talent management outperformed their competitors. Also, their mean return to stakeholders was increased by 22%. [ Michaels E, Handfield-Jones H., Axelrod B, The War for Talent, Harvard Business School Publishing, Boston, 2001 ]
Ergo, it is for the organizations to understand how frequently to assess their needs and acquire talent that shapes their performance and growth. 
What are Talent Management Models? [Steps In These Models]
Talent management as a practice involves a series of processes, arranged in a systematic manner for a streamlined execution. These processes complement one another and contribute to an entire talent management model. Every organization can curate its own talent model. But any and all models must focus on certain essential aspects, discussed below:
1. Planning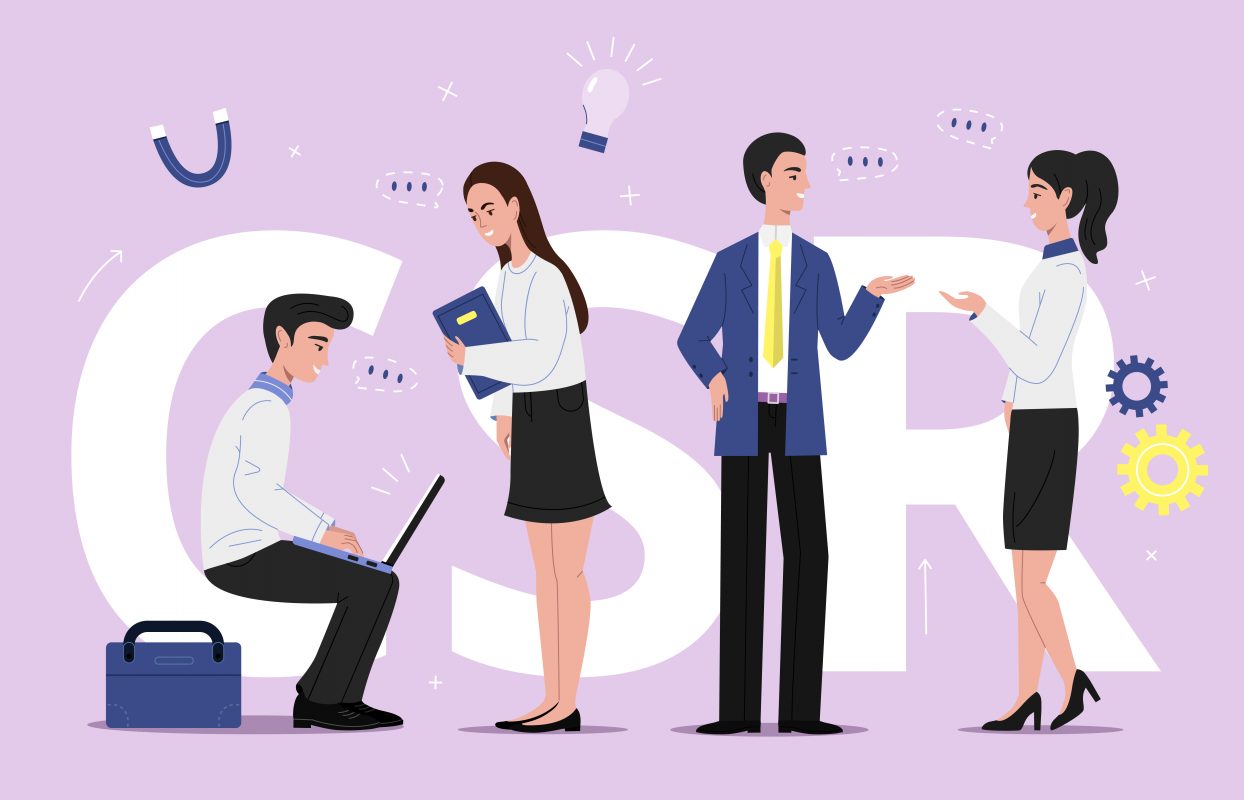 To initiate planning, primarily you would have to identify your business strategy. This will accentuate your human capital requirement. Once you gain clarity on that front, start with the hunt for talent. This would involve –
Explicitly stating job requirements
Formulating a thorough job description by enumerating responsibilities, roles, and duties. 
Developing a practical plan for recruitment or workforce management.
As an HR, you have to put in enough groundwork and assessment to identify the demands of vacant positions. This will lead you to hunt the most fitting talent from an entire pool. An evaluation of the workforce plan is needed to begin with initially. 
The significance of the planning stage is to proactively recognize and address the needs of the organization. Recognizing current organizational talent, in synchronization with any upcoming openings is the intent behind planning. 
2. Attracting Employees
With the primary process of planning successfully executed, the next step in your talent management model is reaching out to potential employees.
The strategies to lure in candidates include – 
Marketing – A marketing strategy is used to attract the best talent. The agenda should be to focus on employer branding through various platforms and to reach the potential talent by marketing the organization's values, ethics, vision, and goals.
Developing Employee Value Proposition (EVP) – An EVP communicates various benefits that employees receive, in exchange for their skills. Developing an EVP is a marketing technique that organizations bring in to portray their aspirational self.
Talent Acquisition – Recruitment can be commenced once all its requirements are in alignment with the workforce plan. Depending on this, you can opt for either internal or external recruitment. For external recruitment, all HR professionals must be aware of the available sources. They then have to pick their choice of source. Base your decision on the scope and reach of each source. Study on how to help expand the reach of company openings to a wide talent pool. 
Nowadays, several external sources listed below are all the rage –
Job listing portals, 
Social networking sites, and
Employee Referrals
3. Recruitment
Planning on talent recruitment and mindfully plotting your vacancies will fetch you enough applications. Sorting the applicants is where the tricky part of the recruitment process begins. Here, the adroitness of the human resource department is brought to action. Tools like a Human Resource Management System (HRIS) greatly benefit the sorting, recruitment, and management process. 

HRs should employ a strategic approach for screening and scrutinizing candidates. Every step of this elaborate process has to be in line with your talent management model. For the same, the tedious recruitment process can be divided into various stages involving – 
A series of tests
Personal and group interviews
Sorting based on special capabilities and talent 
Following a step by step recruitment process will greatly simplify and help with talent management.
4. Talent Development
After successfully hiring a candidate, the talent development process begins. This process involves onboarding and orientation of the new recruits. Developing new talent according to your company ethics, profile and culture is not only mandatory but a chief, fundamental component of talent growth and extension.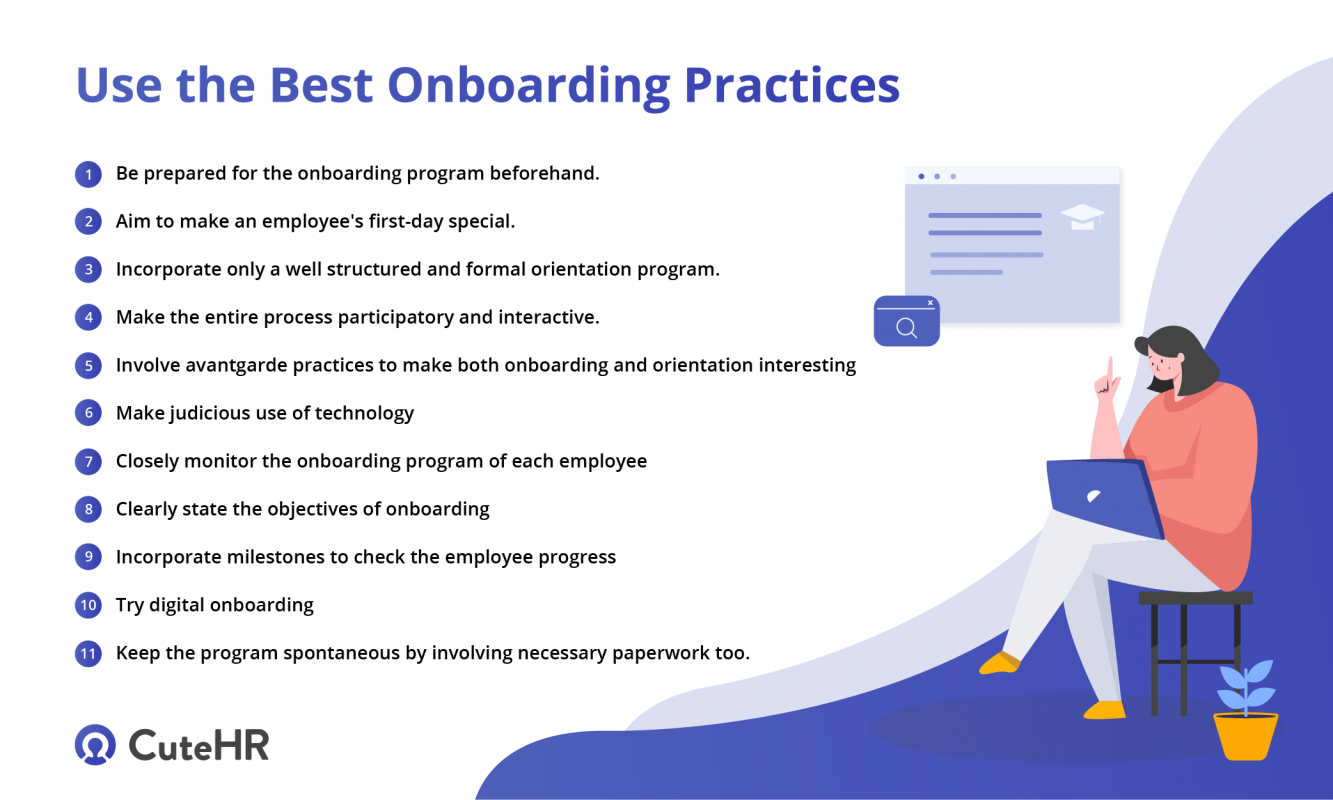 A combination of these orientation and onboarding processes is highly yielding for the same – 
Coaching
Mentoring
Guiding
Counselling
Education and training 
All these methods are used by companies as a part of their employee skill enhancement process. Thoughtful orientation and onboarding of a new recruit are pivotal and majorly reflect on your company's retention rate. 
Check out top 10 on-boarding tools
The intention is to handsomely introduce an employee to his new environment. A good mix of orientation and onboarding exercises is apposite. Along with the HRs, the managers and coworkers have to contribute to these elaborate processes. 
Our CuteHR tool highly aids with such talent development processes. Apart from onboarding and orientation, it looks after other key elements of talent management like-
Performance monitoring
Resource management
Employee survey
Employee task management
Project management
Payroll management
Time off management
Applicant tracking 

Impactful talent management comes about with identification of talent, and streamlining it into company culture and responsibilities. Only a blend of fine introductory activities will allow a new recruit to fit in effortlessly. Marking his progress from here, the all-round talent development process can be strategically inducted.
5. Retention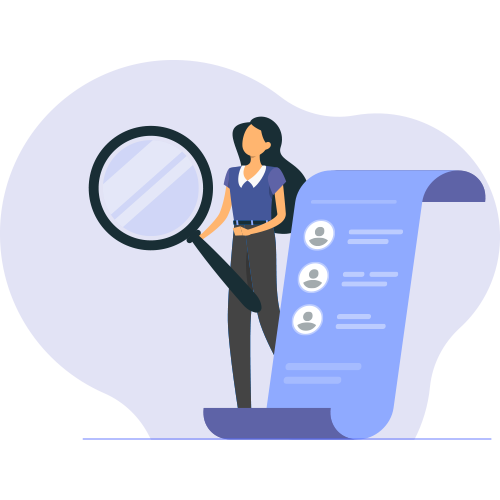 It is vital for your organization to house a skilled and talented workforce. More importantly, this talent ought to stick with your organization for the longest time. With a well-equipped talent management model can this goal be reached. A key part of your company's talent management model is retaining employees. A low employee turnover rate reflects on the satisfaction level of the workforce and the presence of effective workplace strategies. This makes retaining talent the ultimate goal of all HR management systems.
A talent management model must contains these strategies and techniques which aid in employee retention –
Imparting benefits and regular increments
Finessing and developing employee skills with training and education
Providing a challenging yet conducive work environment
Recognising individual and group efforts
Involvement in decision making 
All the above-mentioned techniques to manage and retain talent broadly reflect your company's remuneration strategies. Explicitly, culture plays a huge part to execute these strategies. Consider culture as a continuous and dynamic entity. It is something to be tamed, invigilated, and replenished. Finally, all the retention strategies, in alignment with company culture, values, ethics, and principles fall into place in the grand scheme of the talent management model.
6. Transitioning
Successful talent management is the conversion of employees to realize organizational goals. It comes about with rigorous employee development and engagement. Only then will transitioning activities like these, be fruitful.
Succession planning 
Funneling talent through internal promotions
Providing retirement benefits 
The transition of your employee must channel his talent to become a spokesperson for your organization. Internal mobility and promotions play a huge role in this. With succession planning assessing the anticipatory vacancies and gaps in talent pipeline, HRs can plan on filling these voids in advance. Every management or retention strategy can be realized only by keeping a close eye on your company's talent pool. 
Traditional Talent Management Model Vs New Talent Management Model
The upshot of having a talent management model is the management of your internal and external talent pool. Hence, companies are switching their approach to curate a custom made model for themselves. The end result is to create a model that single-handedly addresses all issues of workforce management. Although, the task of choosing a model for your company requires the recognition of several organizational aspects of-
Business strategy
Mode of operation
Communication channels
Organization ethics, culture and vision
Workforce management philosophy
Talent pipelines and pools
Resources allocation
Integrating all these processes with their components into a well-structured model is a challenge. A rigorous task like it can be simplified by choosing from existing talent management models. Ideally, there are two kinds of talent management models to go with. 
1. Traditional Talent Management Model
The traditional model of talent management comprises the key HR responsibilities. These include selection, recruitment, talent management, development and analytics, and performance management. The major flaw which renders this model obsolete in today's times is its operation in silo or isolation. This model lacked the element of integration and association with other organizational processes.
Moreover, pertaining to today's dynamic, ever-evolving business scenario, the traditional model is deficient to deliver the elements of flexibility and accuracy as well.
2. New Talent Management Model
The new talent management model (as discussed initially in this article) is one that is not only integrated with other business processes but is backed by technology. This model is relevant to today's times and adapts to the slightest shift in the business environment. Along with technology, the next-generation tools like feedback apps, pulse survey tools, online learning & development (L&D), learning management system (LMS), etc. also serve in this new model of talent management. This model with a fairly modernized way of functioning has integrated systems, systematic approach, accuracy, structured growth, and effective talent development. 
When the two models are compared, the new talent management model emerges more reliant and effective. This is due to the relationship between the extent of integrated elements in a talent management model and the prowess of human resource leaders in talent management. The fully integrated models of talent management are always more effective. McKinsey's study brings forth this aspect. It shows that
50% of C-suite level executives who were interviewed, blamed lack of collaboration and linear business strategies in talent management systems, from providing optimal business value.
Study was published in Guthridge M., Komm A.B. and Lawson E., "The People Problem in Talent Management," McKinsey Quarterly 2(2006): 6-8
Enhance Your Talent Management Model
The discussion above outlines the talent management model as a requisite for talent supervision and leadership. Though, something even more important is to gauge and test the potency of the model from time to time. Models of workforce management became obsolete with time, due to incoming new tools, strategies, and methods. This requires the HRM to raise the profile of their talent management every now and then. Incorporating new elements, modifying old practices or withdrawing strategies will greatly aid as an enhancement technique.
Revamping old strategies will not only allow workforce participation but help to get fresher, more relevant ideas. Your talent management model can work better with a new perspective for strategy execution. 
Any substantial acquisition or jettisoning should be viewed as an opportunity to work on your planning or to re-evaluate talent. 
Any hiring at the C-suite level can require to realign talent with different viewpoints or outlook. 
On reaching a pivotal juncture, the talent model has to be re-visited if not necessarily augmented. A better practice is to build upon the prevailing model and be more strategy-driven. For this, the HRM department can adopt certain tactics. 
As an HR you have to manage the human resources in complete alignment with the goals and aspirations of the business. For this, a thorough understanding from the point of view of business leaders is necessary. 
Avoid overly depending on models, frameworks and schemes. Instead stick to collect data actively, find evidence that supports your argument and enhance the process in talent management, when needed.
Prefer adhering to data and analytics to devise more accurate strategies in talent management.
Evaluate the outcome of each strategic business move for its suitability for business.
Conclusion
Having a predictive model to manage your company's most tangible and valued asset – the workforce is a boon. It brings together the best of strategies, processes, and HR practices to manage talent and nurture it. Companies with a pre-determined, elaborate talent management strategy function in a more systematic manner. They are much clear on their goals and requirements. Hence, the focus must be to build a talent model, unique to your organization, with integrated elements, in compliance with all your business operations. 
Managing talent is incessant. The HRM has to be vigilant enough to proceed according to the model and assess its effectiveness alongside. The best talent management model has to be in compliance with business goals and priorities. This requires HR professionals to erect strategies that recognize critical roles, responsibilities, and plan of action. Moreover, this model needs regular upkeep to maintain its flexibility. Such a model will be robust and dynamic enough to withstand evolving business scenarios. Effectual communication by HR to all the levels of management is fundamental to the executive talent management exercises. A well-established combination of all such intricate processes, from recruitment to transition is what makes a wholesome talent management model.